I'm a strategic UX designer who is passionate about turning design concepts into tangible interactive experiences.
With a creative mind and critical thinking, 
I approach various design challenges from multiple perspectives, creating innovative design strategies and digital products.
My ambition is to craft creative solutions that not only address the challenges of today but also consider the needs of tomorrow and beyond.
Participatory urban development for climate adaptation in public spaces
Connecting and digitalizing urban garden projects
Artificial intelligence tutoring
Explore the diverse set of skills I've acquired over the years as UX/UI-designer and strategic designer.
UX Design Skills
User Research
Wireframing and Prototyping
Interaction Design
User-Centered Design
Visual Design Principles
Mobile and Responsive Design
UI Design
Sketching and Storyboarding
Rapid Prototyping Tools
Coding Basics
Strategic Design Skills
Design Strategy Development
Market Research and Analysis
Brand Strategy
Service Design
Project Management
Innovation Design
Creative and Critical Thinking
Working Student

Voice Assistant and UI
Mercedes-Benz AG
Stuttgart
10/22 – 03/23
Working Student

Voice Assistant and UI
Mercedes-Benz AG
Stuttgart
03/21 – 09/21
Co-Founder and Design Lead
E-Learning for Medical Studies
fracto GbR
Mannheim
11/20 – 03/23
Internship
UI-Concepts Designer
Mercedes-Benz AG
Stuttgart
09/20 – 02/21
Strategic Design
Master of Arts
Hochschule für Gestaltung
Schwäbisch Gmünd
03/22 – 08/23
Interaction Design
Bachelor of Arts
Hochschule für Gestaltung
Schwäbisch Gmünd
09/18 – 02/22
During my time as a working student and intern at Mercedes-Benz AG, I was responsible for several main tasks, including:
Developing interactive prototypes for topics like driver assistance, autonomous driving, and infotainment displays
Creation, management and documentation of a prototyping library including versatile interactive components for further concept development
Assisting in the creation of interactive prototypes for driver and infotainment displays and in concept development
Conducting use-case visualizations to evaluate concepts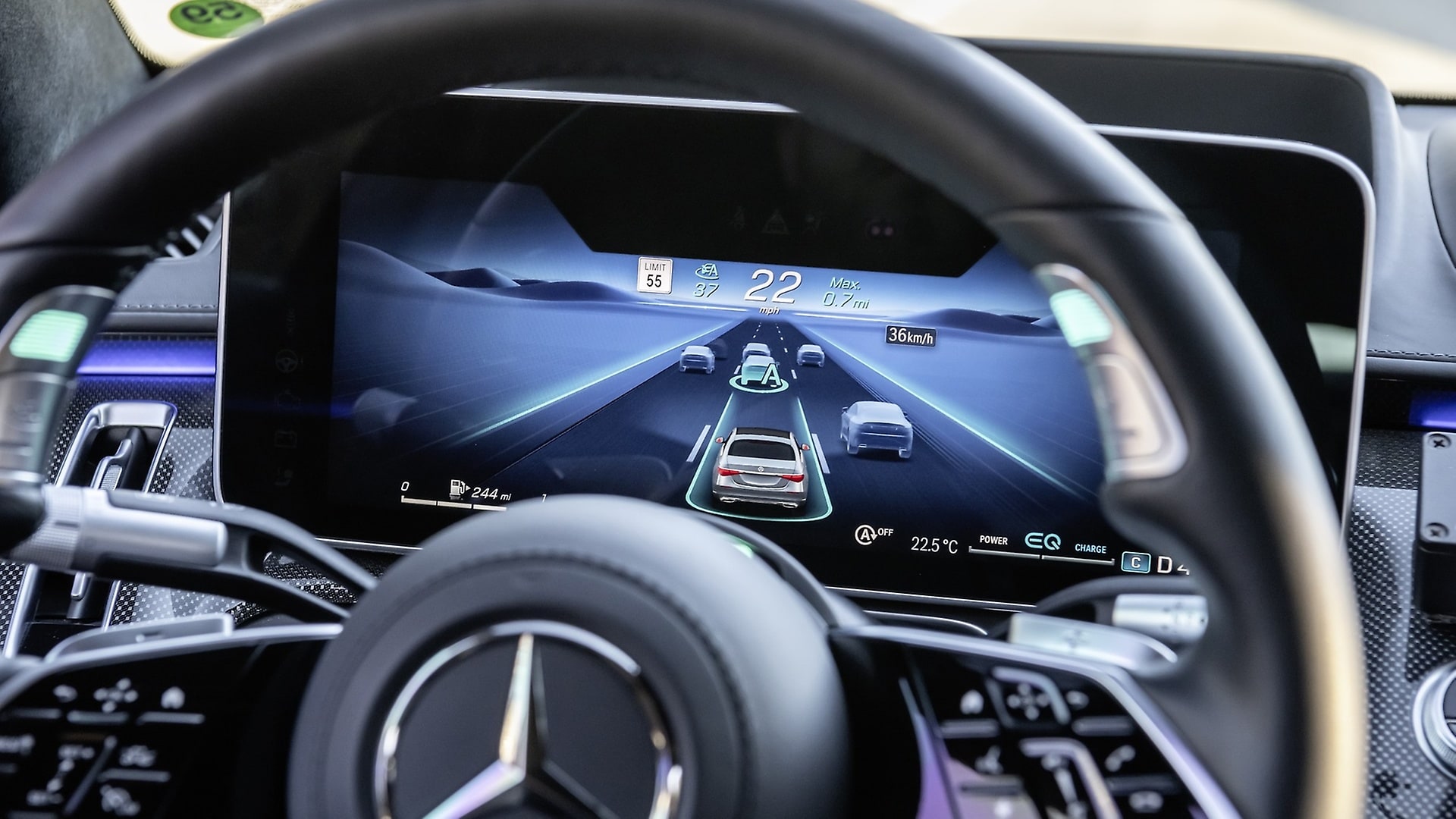 DRIVE PILOT – Photo by Mercedes-Benz AG – April 2022
In my role as Co-Founder and Design Lead at fracto, I've focused on these key responsibilities:
Product and user experience design
Design system development
Graphic and visual design
Management of design department
Set up and management of the online platform
Front-end development